ACRYLITE® Heatstop High Impact Wave Profile
ACRYLITE® Heatstop High Impact Wave Profile | 3mm, Cool Blue White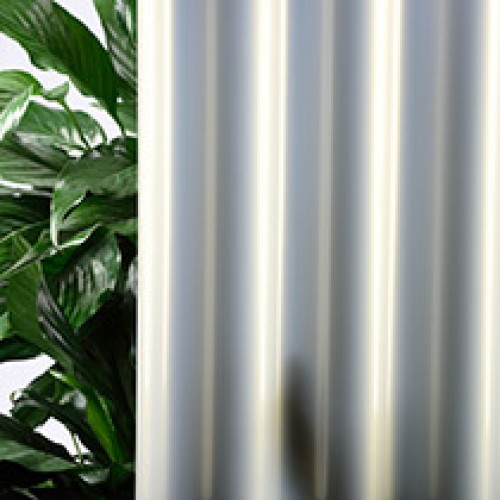 | | |
| --- | --- |
| Product Lengths | available in 41" by 12' and 16' |
| Product Specs | 50 shts/per pallet all sizes |
| Product Code | WZ006 |
| USD Price | |
| CDN Price | |
3 mm ACRYLITE® Heatstop high impact acrylic wave profile is an IR-(infrared) reflecting and weather-resistant sheet made of impact-modified Acrylic (polymethyl methacrylate, PMMA) polymer. The Heatstop component is uniformly distributed throughout the entire sheet.
This unique product is suitable for overhead and vertical installation applications, including:
patio covers
carports
porches
verandas
façades
windbreaks
canopies
decorative panels
Architects and designers from across the globe repeatedly trust 3 mm ACRYLITE® Heatstop high impact acrylic wave profile for their design projects and have discovered the following advantages:
solar energy is reduced up to 75% resulting in a very pleasant and cool environment beneath the glazing
excellent protection against harmful UV radiation
safe and easy handling
guaranteed to be resistant to hailstones with a kinetic energy of 2 joule for 10 years
significantly thicker than many other corrugated sheets, offering higher inherent rigidity and load bearing capacity resulting in much less deflection under snow load
distinct stylish appearance
quick and easy fabrication and installation using simple tools and point fastening
special weatherseal calottes and fasteners available
available in choice of cool blue or pearl
non-prorated, full replacement 30-year non-yellowing, 10-year light transmission and 10-year hail warranties
Get more information on this product or learn how to order.